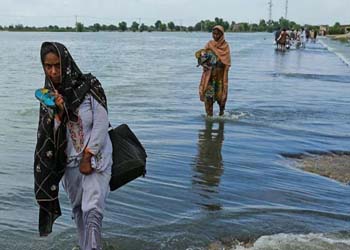 ISLAMABAD, Sept. 30 (NNI): "Six hundred thousand pregnant women in flood affected areas lack maternal health services and have no safe place to deliver. Over 5 million children in flood areas have no immunization and nutrition care. Pakistan must fast track efforts to restore reproductive health services for women, pregnant women and children," said Minister of State for Finance and Revenue, Dr. Aisha Ghous Pasha at the seventh meeting of the Parliamentary Forum on Population (PFP).
The meeting was organised by the Population Council and United Nations Population Fund (UNFPA).
Addressing the forum, Minister Dr. Aisha Pasha said that the international community should channel funds into priorities that support climate-hit countries like Pakistan.
Members of the Senate, legislators from the national and provincial assemblies, and regional body of Gilgit-Baltistan representing all major political parties attended the meeting. The Parliamentary Forum on Population is a cross-party platform to raise parliamentary awareness on population and development, sustain cross-party political commitment and advocate for population stabilization.
Speaking at the meeting, Dr. Zeba Sathar, Country Director Population Council highlighted that floods in Pakistan have aggravated pre-existing vulnerabilities of marginalized population. Citing national data, she said 19 million population out of the 31 million persons living in the severely affected areas are poor. More than 22.7 million Kacha Houses where the displaced population of severely affected areas lived in are most likely destroyed. Besides women and children, around one million people of 65+ age are living in severely flood affected areas who require special care.  People living in agri-climatic zones have lost their cattle and crops and have no access to health services.
Ms Samia Ali Shah Proect director Population Council shared the plight of women and children affected by the floods in the severely affected districts especially how lack of reproductive health services was impacting their lives and that we must strengthen the  community  based providers to help them  provide much needed  services to their communities.
Parliamentarians called on the donor community to urgently prioritize the needs of women and girls who disproportionately bear the brunt of the devastating impacts of climate change as we are witnessing during the current floods. They emphasized the need for accelerating provision of maternal health, reproductive health and family planning services along with safe space for women and girls.
The parliamentarians expressed their resolve to advocate for inclusion of family planning as a risk mitigating and resilience building strategy in government plans and ensuring provision of family planning services to meet high unmet need amongst the poor. They also stressed the need of policy initiatives to fast-track adaptation strategies at community level, rehabilitate flood-affected population to safer areas, skills development to encourage alternative livelihoods, build health system resilience at the community level.
Senator Mushahid Hussain Sayed, Secretary General of the PFP said Pakistan's rapid population growth rate drains its resources, exposes people to socio-economic problems, and puts it at risk of the impact of human-induced climate change. He said continuity of health and family planning services is essential to ensure flood-affectees receive urgent healthcare to rebuild and adapt to climate change.
The Population Program Wing (PPW), Ministry of National Health Services, Regulations & e Coordination (NHSR&C) apprised the participants of the federal response and the activities it was undertaking to gather support achieving sustainable population growth.
The legislators appreciated the role of the Population Council in sustaining the impetus for population management. They said that they would continue play their role in enhancing resource allocation and legislative support to population management activities.
Dr. Bakhtior Kadirov, Country Representative a.i. UNFPA said that comprehensive strategy, with family planning taking center stage, needs to be implemented by taking all the stakeholders on board and parliamentarians have a pivotal role to play for success of this resilience rehabilitation. He said, "Family planning is part of health services package that we all are delivering at this time of crises. UNFPA is ready to play its role in building the resilience of institutions and communities." NNI