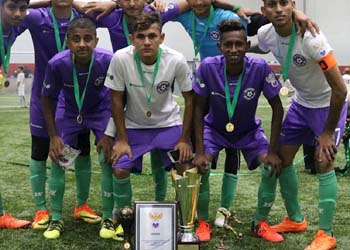 ISLAMABAD, Oct. 6 (NNI): Muslim Hands Street Child Football Team has left Islamabad for Qatar to participate in the Street Child Football World Cup to be held in Qatar where they will participate in football competitions to be played in the capital city of Qatar.
According to the details, the Pakistan street child football team prepared by Muslim Hands has left Islamabad for Qatar where they will participate in the Street Child Football World Cup. These competitions are taking place in Doha from October 7 to October 15 in which 28 teams from 25 countries are participating.
Syed Zia Ul Noor, Country Director of Muslim Hands, said that Muslim Hands selected these players for the football team after trials from the football academies established in 17 cities of the country, after which they went to the main football academy of Mirpur Azad Kashmir.
Later, they played matches with various clubs across the country so that he can have ample practice. He hoped this team would make the nation proud this year by playing better than before. He further said that the Muslim Hands Street Child Football Team participated in the World Cup held in Brazil in 2014 and the Norway Cup in 2015 and won the third position. A total of 196 teams participated in this tournament.
The same team also secured the third position while participating in the Gothia Cup held in China in 2016. The team was undefeated throughout the tournament, but the rival team defeated them in the semi-finals. While in 2018, this team was able to get the second position in the FIFA Street Children World Cup held in Moscow.
On this occasion, Raja Arslan Nusrat from Muslim Hands Pakistan said that Muslim Hands is committed to the development of football in Pakistan; it has established 17 academies across the country and will increase its number in the coming years.
He said that children living on the streets is a global problem and according to UNESCO's report last year, there are currently 150 million abandoned children in the world, while there are currently about 1.9 million abandoned children in Pakistan, but their actual statistics are more than that.
He added that 65 percent of children live on the streets because of domestic violence, physical violence or some other form of violence. He also said that the team consists of children who belong to disadvantaged families including orphans, street children and weaker sections.
Muslim Hands is committed to encouraging and actively mentoring these youth to represent the country at international forums. He said that more than 30 children trained under the auspices of Muslim Hands are playing football at the national level on behalf of various departments. Including Pakistan Army, Navy, WAPDA, Sui Northern Gas and other departments. In this way, eight children in the national team approved by FIFA have come out of the academies of Muslim Hands.NNI