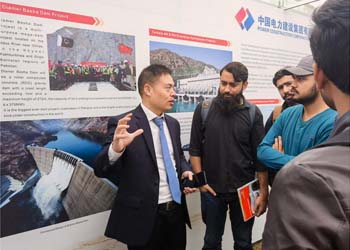 LAHORE, (NNI): POWERCHINA says it has vigorously promoted Chinese technology and Chinese standards, profoundly introduced the real situation of China and the powerful contribution of Chinese enterprises to local economic and social development.
In a statement on Monday, POWERCHIAN said it has also enhanced the understanding and recognition of China and Chinese enterprises by people from all walks of life at an international moot in Lahore.
The exhibition also attracted many outstanding students of related majors to observe and learn about the high-quality construction capabilities of POWERCHINA. The exhibition will provide a boost to POWERCHINA's business in Pakistan according to a statement.
The 16th International Conference on Geotechnical Engineering was held at the University of Engineering and Technology Lahore, Pakistan (UET Lahore) from December 7 to 8 under the auspices of the International Society for Soil Mechanics and Geotechnical Engineering (ISSMGE).
The event attracted many famous enterprises to participate, and POWERCHINA, as the representative of Chinese enterprises, was the only Chinese company to exhibit on site.
The exhibition was organized by Pakistan Geotechnical Engineering Society (PGES) and co-organized by UET Lahore and National Engineering Services Pakistan (NESPAK). POWERCHINA was invited by the organizer to participate in the exhibition as one of the top sponsors.
This year's exhibition was held in a combination of online and offline modes, with 5 professional symposiums held in 2 days, which focused on the theme of "Geotechnical Engineering" and discussed extensively the development direction of various technical fields such as engineering field and laboratory research, design and numerical simulation, geotechnical engineering construction and equipment, materials and performance monitoring.
The symposium attracted experts and scholars from all over the world and professionals in the field of design, construction and manufacturing.
The conference was opened with an online speech by the Chairman of Water and Power Development Agency of Pakistan (WAPDA).
After the opening ceremony, Mr. Amjad Agha, President of Pakistan Geotechnical Engineering Association, Dr. Tahir Masood, President of NESPAK, Dr. Ikuo Towhata, Professor Emeritus of the University of Tokyo, Dr. Syed Mansoor Sarwar, Vice Principal of UET Lahore and other relevant experts and scholars visited POWERCHINA's booth one after another and expressed their appreciation for their underground engineering design and construction capability and strength.
During the exhibition, local owners, partners and other well-known companies in the industry, such as WAPDA, FWO, DESCON, SIKA, DOLSAR, also visited POWERCHINA's stage for communication, increasing their understanding of Chinese technology, Chinese wisdom and Chinese standards, and discussing potential opportunities for further cooperation.
In the symposium, the first topic "Geotechnical Engineering Challenges of the Basha Dam Diversion System" was moderated by Mr. Amjad Agha, which received an enthusiastic response from the participants.
As a global leader in the field of large-scale energy and infrastructure construction, POWERCHINA has long been familiar to the international industry. This time, with the help of the international academic communication platform for geotechnical professionals hosted by the top university in Pakistan, POWERCHINA further fully demonstrated its strength in the field of underground engineering under complex geotechnical conditions, attracting many enterprises and professionals in the industry to visit, exchange and negotiate, and effectively enhancing the influence of POWERCHINA in the international geotechnical engineering field. NNI